SLIT Therapy Allergy Treatment
Have you ever wished that you weren't allergic to something in your life? Whether you have grass allergies that irritate your eyes in the spring or you have a hard time visiting your friends because you're allergic to their cat; with SLIT Therapy, we may be able to help desensitize you to your allergens and improve your quality of life.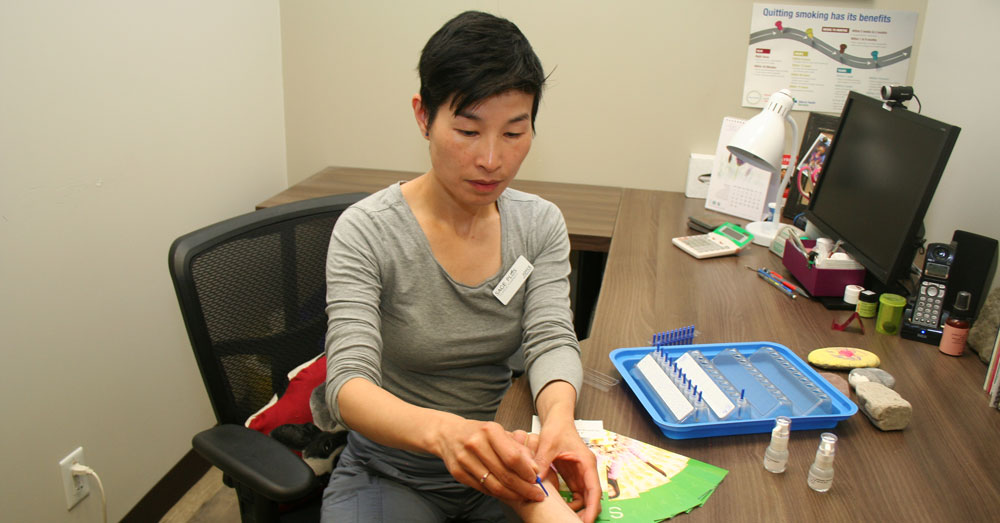 What is SLIT Therapy?
Sublingual Immunotherapy (or SLIT for short) is an alternative method of treating allergies and desensitizing a person to their allergies without using injections. To begin the process, one of our clinical pharmacists will give the patient to be desensitized their first small dose of an allergen. This is done to boost their tolerance to the allergen and reduce the severity of the symptoms that they experience. Generally, after one of our clinical pharmacists have monitored the first dose to ensure there are no allergic reactions or safety risks, the patient can continue the treatment from the comfort of their own home once per day until the treatment has been completed.
Is SLIT Therapy Safe?
Clinical trials and studies in the last 20 years show that SLIT therapy is safe when administered by a professional. Our clinical pharmacists have been medically trained to treat and desensitize patients to their allergens and perform SLIT Therapy within the pharmacy and provide instructions for ongoing treatment at home. You'll be monitored by our clinical pharmacists to ensure you don't have any severe reactions or negative effects every step of the way.
Is SLIT Therapy Effective?
The same clinical trials and studies have proven that SLIT therapy is also an effective way to desensitize patients to allergens. The process is effective in treating allergies to grass, dust mites, ragweed, cat dander, and tree pollen!
The evidence of the clinical trials and studies supports that this is an effective way to treat allergen symptoms like red, itchy eyes, caused by pollen during the spring, and hay fever season and other normal symptoms that patients may experience.
The SLIT Therapy Process
For those of you that are interested in SLIT Therapy, we've outlined the process, so you know what to expect and how to get started with it!
1) Set-up an Appointment
The first step is setting up an appointment with one of our clinical pharmacists. Our N.D. will set up a "Scratch Test" to test your existing allergies. Alternatively, if you have allergy tests from an M.D. that has been completed in the last year, we can use these results to begin.
2) Check Your Insurance Plans
For step two, we have our clients check and see if they have health insurance or coverage for allergy testing. Some insurance plans cover alternative treatments and testing like SLIT Therapy. It's important to check before we begin testing and treatment because you may not have to pay for the treatment out of your own pocket.
Insurance plans can be confusing. If you're having any problems determining whether or not SLIT therapy is covered under your insurance plan, we can check for you. We're here to help every step of the way!
3) Results
Once we know which allergens you are affected by, we review the results with the patient and order a custom oral allergy serum for you.
4) Treatment
Your custom oral allergy serum will arrive in 1-2 weeks. When it has arrived, you will begin taking it as prescribed by one of our clinical pharmacists. This serum is what will desensitize you to your allergens and help you beat your allergies.
Use SLIT Therapy to Beat Your Allergies
Given that everyone is unique and we react differently to allergens, this may not be as effective for some individuals compared to others. If you want to be desensitized to your allergens, consult our clinical pharmacists to determine if it is a good fit for you.
Our own clinical pharmacists, Joyce and Kendra, have used this in the past to treat themselves and their families. It has had a positive impact on their lives and the allergens that have affected them.
Joyce's husband was so allergic to their cat that he used to have anaphylaxis allergic reactions to it. Within three weeks of SLIT Therapy treatments, he was able to sleep with their cat.
Kendra used to have a ton of seasonal and other allergies. She went from taking ten allergy pills a day to just one tablet per day for her allergies after SLIT Therapy.
They're both living proof and strong believers in the power of SLIT Therapy for treating your allergies.
If you're interested in using SLIT Therapy to desensitize yourself to your allergens and feel better, contact us today for a consultation. We'll connect you with one of our clinical pharmacists and outline how we can get started!
Book an Initial Consultation